Avaya IX & CU 360 Video Collaboration
Boost your productivity and enhance your relationships with HD video, audio, and web collaboration from Avaya IX Meetings.
Bring the experience of a face-to-face meeting to your employees, customers and partners, anywhere, on nearly any device. Simplify and converge your audio, video, web collaboration, and webcasting to one cloud platform
and app. Save money, admin time, and user training by meeting with just one app.
Meet with Any Device
Meet and stay productive from nearly anywhere with your Windows, MacOS, iOS, or Android device; dial-in with your phone in over 60 countries at no extra cost.
Easy Access
Join directly from your browser without installing an app or plug-in, via WebRTC technology. End-to-end encryption helps make meetings more secure and easy to access.
Room and Huddle System Connectivity
Use your H.323 or SIP video room system from Avaya and nearly any vendor in 1080p HD for group participation or add the CU360 Video Conference Solution. The Avaya IX Collaboration Unit is designed for the cloud, and uses unique Avaya next generation technology to deliver all that the cloud has to offer to any business space. It is an ideal stand-alone solution to enable individual workgroups or small to midsize businesses, and it can also be used as an integrated video endpoint to expand your existing collaboration infrastructure allowing connection to many other providers such as Zoom, Teams and Goto Meeting.



Avaya CU360 Room




Video Conference Solution




Avaya B109 Bluetooth




Conference Phone
Starleaf Video Conferencing
Connect with a global audience
Remove barriers to communication and hold video conferences that anyone can join, from anywhere, on any device. StarLeaf's technology offers unparalleled interoperability with other video calling services, so your organization can reach out and connect with the widest possible audience.
Technology that works for you
StarLeaf's flexible and intuitive technology facilitates productive meetings, enabling greater collaboration and easier sharing of ideas wherever you are and whatever device you are on. Whether in a smaller huddle space or a large auditorium, at your desk or on the move, StarLeaf's video conferences are as close as you can get to bringing your whole audience into the same room.
Work faster and smarter
StarLeaf gives your employees the tools they need to work faster and smarter, to collaborate more easily, and to make better, more informed decisions.
Holding internal and external meetings with StarLeaf is incredibly easy and intuitive, and becomes a natural part of a flexible workflow that includes messaging and calling, so your employees can simply choose the right communication method at the right time.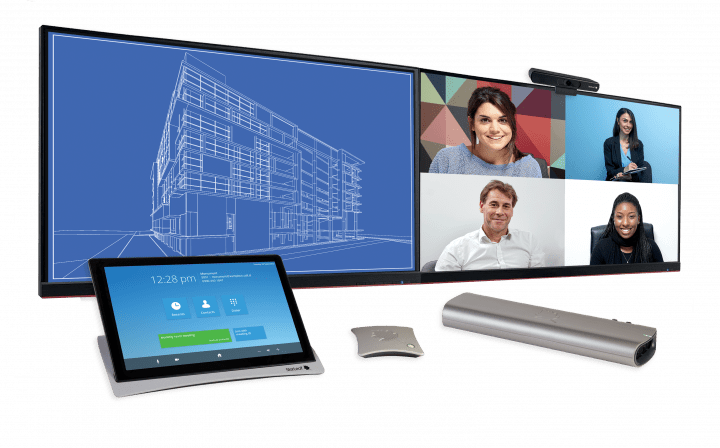 Call us to discuss solutions that can assist during these times to keep your business operating and your staff connected.